ShowCAD Server MINI
With HDD silicone mounts, superior cooling/airflow, internal pre-installed and configured DMX interfaces (up to 1024 channel USB/DMX possible), pre-installed Artist, pre-registered Windows, guaranteed capability with Artist, only high quality components used, burn-in soak test and our name to it, we think that this computer is a match for anything available off the shelf. Case MATX Tower Antec NSK3480 c/w 380W PSU Includes: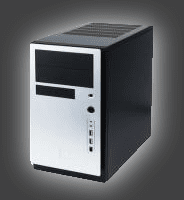 ShowCAD Server 2U
A 2 unit rackmount PC with integrated DMX output. Super quiet and compact this popular machine is configured to run ShowCAD Artist smoothly and reliably. If required, this PC can be configured with playback buttons and a display as shown above, eliminating the need for a monitor and preventing anyone accessing and programming the computer without plugging in a QWERTY and monitor, thereby protecting the programmed shows. These control panels can also be placed at remote locations, connected to thePC by RS 232.
ShowCAD Server 4U
When power and flexibility are required for a multi-DMX universe installation, our 4 unit rackmount PC is recommended. Options include a choice of motherboard and processors, redundant power supplies, redundant RAID arrays etc.
Pricing Enquiries
For pricing enquiries, please contact Rowland Hughes on +44 192 942 32 22 or rowland@showcad.com